15 Dog Friendly Spaces in Bangalore City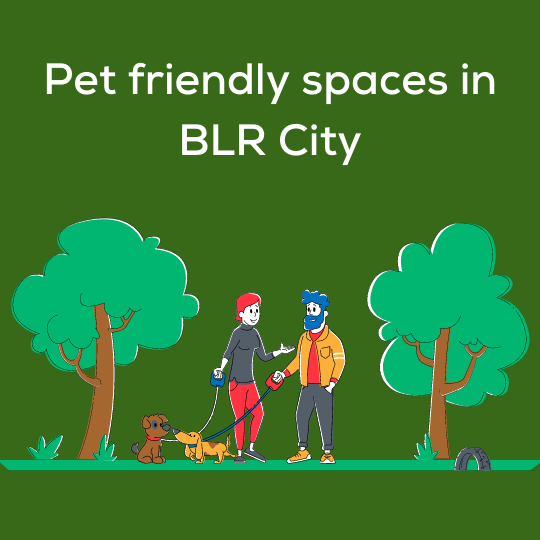 Struggling to find a place to spend some time with your dog in the Garden City? This blog tells you about all the places you can visit for a doggie date wherever you are based in the city.
#1. Therpup Cafe: A cute outdoor space with a pool and a menu designed for both you and your furry friends. Let your dog off the leash to find new friends and explore new places! It's definitely the best way to spend your weekend. 
Contact: + 91 96-86-520315
Location: White Rose Layout, Abhayadhama Rd, EPIP Zone, Whitefield, Bengaluru, Karnataka 560066
#2. The Weekend Dog Park Cubbon Park: A lovely outdoor playground where you will find dogs of all shapes and sizes running freely. Sunday mornings are the best time to visit and there is even a dog fountain for your pooches. 
Location: Cubbon Park, Nunegundlapalli, Ambedkar Veedhi, Sampangi Rama Nagar, Bengaluru, Karnataka 560001
#3. The Fat Chef: European cuisine presented in a roomy, comfortable environment with candlelight & outdoor seating and happens to be absolutely dog-friendly! Get out for a great dinner with the whole family!
Location: Varthur Rd, adjacent to Adarsh, Palm Meadows, Ramagondanahalli, Whitefield, Bengaluru, Karnataka 560066
#4. Bohemians Bengaluru: Bohemians, is a spacious and beautifully designed café in Indiranagar, Bengaluru. The café is popular among the locals for its chic ambience with wooden interiors and quirky knick-knacks adorning the indoor and outdoor seating space for you and your dogs. At Bohemians, you get to relish a variety of Modern Indian and Continental dishes in a dog-friendly ambiance. 
Location: 966, 12th Main Rd, Doopanahalli, Indiranagar, Bengaluru, Karnataka 560008
#5. Bistro Claytopia: Bangalore's first paint-your-own pottery studio and bistro! A place where you can eat while you paint! they are known for our unique creative concept & dog-friendly space!
Location: 11, 80 Feet Rd, Near Wipro Park, Koramangala 1A Block, SBI Colony, Koramangala, Bengaluru, Karnataka 560034
#6. The Bier Library Brewery & Kitchen: Pet friendly, great beer, lovely ambience and good selection of food this brewpub is city central. 
Location: #14, Patel Narayana Reddy Layout, 80 Feet Rd, 6th Block, Koramangala, Bengaluru, Karnataka 560095
#7. Ella'S Petscape: A grooming salon for your pets , a cosy cafe for you and your pets to grab a bite,chill and unwind and a gorgeous little store for all your pet needs
Location: #606, 2nd main road, KPCL road, Kasavanahalli, Hosa road, off Sarjapur road, Bangalore, Karnataka, India 560035
#8. Toit:
A popular brewery in the heart of Indiranagar and a super popular space to hang out! They have an outside seating area where dogs are allowed in limited capacity! Do call and book to ensure your pooch gets the perfect table
Location: 298, 100 Ft Rd, Indira Nagar II Stage, Bengaluru 560038 Karnataka. Ph: +91 9019713388
#9.

 Daddy

:
A classy open terrace bang on 12th main, indiranagar! They have tables set apart enough that your pooch has some room to roam around. Call them to make a reservation for you and your doggy so they can get a water bowl ready!
Location:

 963, 12th Main Road

, Indiranagar, Bengaluru, Karnataka. Ph: +91 9513913341
#10. Gawky Goose: The music here can get loud and vibrant at night but during the day and Sunday brunch this is the great place to take your pets with you. They have a large external seating area with long wooden tables for the whole family.
Location:

#77, Wind Tunnel Rd, Muniyappa Layout, Murgesh Pallya, Bengaluru, Karnataka 560017
#11. Wagville, Swimming and Dog parks: This beautiful and newly constructed property on Agrahara Main Rd, Jakkur is the perfect place for a playdate or to leave your baby when traveling. They have horse and pony rides for the kids and many small dog parks within the property so your dog can choose to enjoy the space by themselves or with the other boarders. They have several dog pools and a small cafe so you and your pooch can have a meal!
Location:

5th Cross, Vidhana Soudha Layout, Agrahara Main Rd, Jakkur, Bengaluru, Karnataka 560064. Ph: +91 9449929024
#12. Rasta Cafe: A lovely drive and to an open, rustic but beautiful cafe on the highway! The space is big enough for many families and pets to enjoy a day out with some amazing food and drinks!
Location:

Bangalore Mysore Highway, Mayaganahalli, Ramanagaram - 562128. Ph: +91 9900072782
#13. Neralu Organic Orchards: An organic agro-forest & dog park on the outskirts of Bengaluru selling produce throughout the year! Drive down for a great day to spend by the lake where your dog can go for a swim and get some healthy snacks after which are freshly grown at the farm!
Location:

RFWW+VRP, Badamanavarathekaval, Karnataka 560062, India
#14. Farm House Social: A Pet friendly venue that hosts Events, Weddings, Shoots, Pop-ups, celebrations for upto 300 Guests. Make sure your dog doesn't have to sit out on your special days!
Location:

Nirmala Farm, Virgonagar, Post, Bengaluru, Karnataka 560049
#15. Dog Park at Hullu Kaddi: They have an Off Leash Area, Swimming for Dogs, Camping & Stay with Dogs, Pet Events, and Workshops. A place that is dog centric not (just) pet friendly
Location:

Somashettihalli, Karnataka 561203
There we just gave you 15 amazing places to get away and get some family-time with your pooch! No more excuses from you folks get going and have fun! Do reach out if you find more pet friendly pockets in the city!
|
Posted on January 22 2021