Featuring Pawstomize Dog Accessories and Bandanas!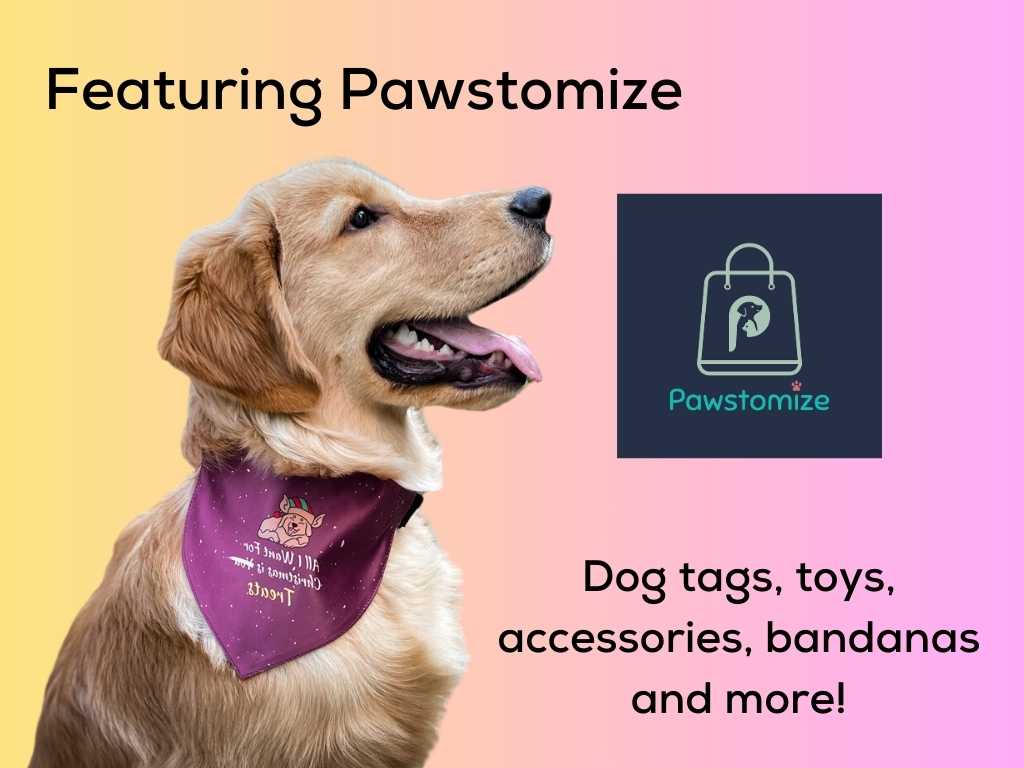 Today, we're excited to introduce you to Pawstomize, a fantastic pet accessory brand that is sure to make tails wag with joy. Pawstomize is all about creating personalized and stylish accessories for your beloved furry companions. Pawstomize believes that pets are not just animals; they are family members, and they deserve the best. They offer a wide range of customizable pet accessories that allow you to add a personal touch to your pet's gear, making them stand out and reflecting their unique personalities. 
Let's hear their origin story from their founder - Chirag Dharmesh, Bangalore. 
"When my cousin introduced me to Bruno, I felt an instant connect. He wasn't just a puppy, he was now a part of my family. Right then, I knew I wanted to be the fun paw'cle. Part of this meant showering him with abundant amounts of gifts. Barring the chew toys, puppy apparel and so on available at every nook and corner, I wanted to give him a personalised gift. An item that I could design; to celebrate him and give him an identity. My efforts to find something personal and suitable for Bruno were in vain, it was frustrating. On the brighter side, this frustration sowed the seed for Pawstomize. A business that gave pet owners/lovers an opportunity to personalise a suitable product for their 'paw'mily member."  
And Pastomize was born.  This year they have  served over thousand valuable customers all across the country! 
What is so special about them? 
"When it comes to our products, you can trust in our quality without any hesitation. We firmly believe that selecting the finest for your dog shouldn't come with an exorbitant price tag. Our unique selling point lies in the fusion of high-quality products and affordability.
Furthermore, our diverse range of customizable items ensures that you have the flexibility to tailor our products to your preferences, adding a personal touch to meet your unique needs."
Their website has all their products listed from dog tags, toys, collars, accessories and more! Don't forget to check out their doggy bandanas! 
Check out their website here: https://www.pawstomize.com/
A bit about the Founder - Chirag!
Pawstomize is the sole venture of Chirag Dharmesh, who started the brand back in 2021. A mechanical engineer by profession, he worked as a business analyst for close to a year before he decided to take the leap of doing something on his own and starting Pawstomize. 
He feels the last two years have taught him a lot, with regards to the business side of things, as well as personal development. While the journey of entrepreneurship may look rosy from the outside, it is also extremely challenging with new problems punching you in the face everyday. Nonetheless, it is one which is extremely fulfilling. He believes the best part about working in the pet industry is not just the wonderful doggos you get to meet along the way, but also the people- because most pet lovers he has come across are very kind, compassionate and caring human beings and it is always great to be around such people! 
Here are some positive reviews from the pawstomize fans! 
"I've been placing bulk orders with Pawstomize over 2 years now for customised bandanas to resell under my inhouse pet brand. Pawstomize have excellent quality as well as superb design aesthetic. Also the satin bandanas are very comfortable for pets to wear around their necks. Their customisation timelines are convenient for me as a business owner and pricing is also competitive for the superior quality they provide. Thank you Pawstomize!"
"The bandana is super comfortable, Sia could play and move around the house with it around her neck for hours, super happy with this product!"
Head over to their website, Instagram or Amazon and embark on a delightful journey of customizing products that celebrate your beloved pets and make them feel truly special. Don't miss out on the opportunity to create something memorable for your four-legged companion at Pawstomize!
WEBSITE: https://www.pawstomize.com/shop-all
INSTAGRAM: https://www.instagram.com/pawstomize/
AMAZON: https://www.amazon.in/s?k=Pawstomize&ref=bl_dp_s_web_0
|
Posted on September 05 2023